Customer success
Dentally's customer success programme is designed to take your understanding and use of the software to new heights, helping you to improve your practice and grow your business. It helps you to elevate your game.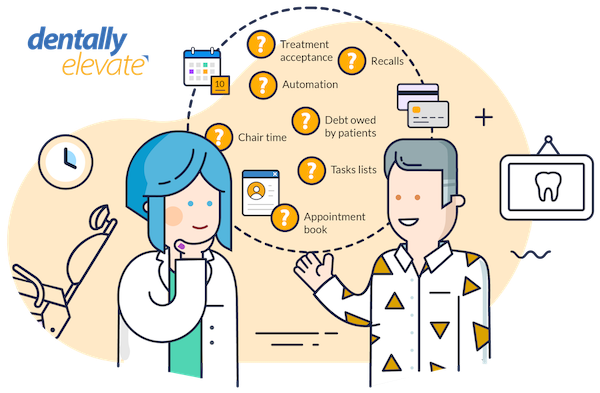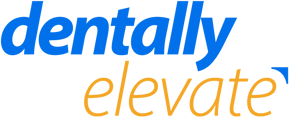 From Simpler to Smarter: Unlock the power of Dentally with Elevate. Our data-driven customer success platform.
Customer success at Dentally, means more than helping you get the best out of our cloud-enabled practice management software for your dental practice. We work collaboratively with you and your team to provide easy access to a holistic overview of everything that is going on in your practice from delivering patient care to the effective management of your business.
We understand how busy your practice is day-to-day and that patient care always comes first, which can mean that there are aspects of practice management that sometimes slip down the to-do list. That's where our Elevate can help, as we provide a new perspective, with fresh eyes, to use your data insights to help you to sustain, adapt and grow your business.
Elevate focuses on several aspects of your dental practice including:
Automating your patient communication.
Using the data effectively to manage and grow your dental practice.
Keeping your appointment book full, reducing FTA's and optimising chair time utilisation.
Delivering an exceptional patient experience and building loyalty to drive patient retention.
Reviewing your online presence and reputation to support new patient acquisition.
Improving the efficiency of your surgeries and team through automation and best practice.
Financial management including increasing your treatment acceptance.
When you join the programme, you will be appointed a Consultant who will be your guide throughout your journey with us. They will become your trusted advisor who will be on hand to provide guidance on an ongoing basis. They will begin with understanding how your practice is performing today, benchmarking against your goals, and helping you to develop a success plan with key milestones.
Our consultants will understand your challenges, and work alongside our training and support team to help you get the best out of our software, and empower your team to implement best practice that works today and in the future.
Talk to our team today
To learn more about how Elevate can help your practice, simply complete the form.
Dentally Elevate FAQ's
What's included in the programme?
The Elevate programme provides your practice with a dedicated Consultant who will seek to understand your priorities and aspirations for the practice. Based on this we will tailor the system to your needs, support you with understanding the opportunities in your business using benchmarked data and introduce you to best practices that have delivered tangible outcomes to thousands of practices.
How much time will I need?
We tailor the service to you, for customers who are new to the programme and need more support weekly calls can be scheduled, for those who've worked with us for some time we arrange quarterly calls with regular email updates. Essentially, we provide as much or as little time as you need based on your use of the tools and the practice requirements.
How much does the programme cost?
As a Dentally customer the programme is included in your subscription fees.
What can I expect to achieve?
92% of customers told us the programme had either a significant or major impact on business outcomes this year.
How do I book my first call?
To book your kick-off call then simply complete the above form or you can speak to any Dentally team member, via live chat, email or phone.