Patient Communications
Keeping in touch with your patients is important from the moment they register with the practice and throughout their ongoing care. We understand that seamless communication is not only critical to your dental practice workflow, but also your patients' dental health. Every communication method from Dentally is designed to help you build and maintain great relationships with your patients. Customise with your practice details, automate your workflows or easily communicate individually with your patients by their preferred means.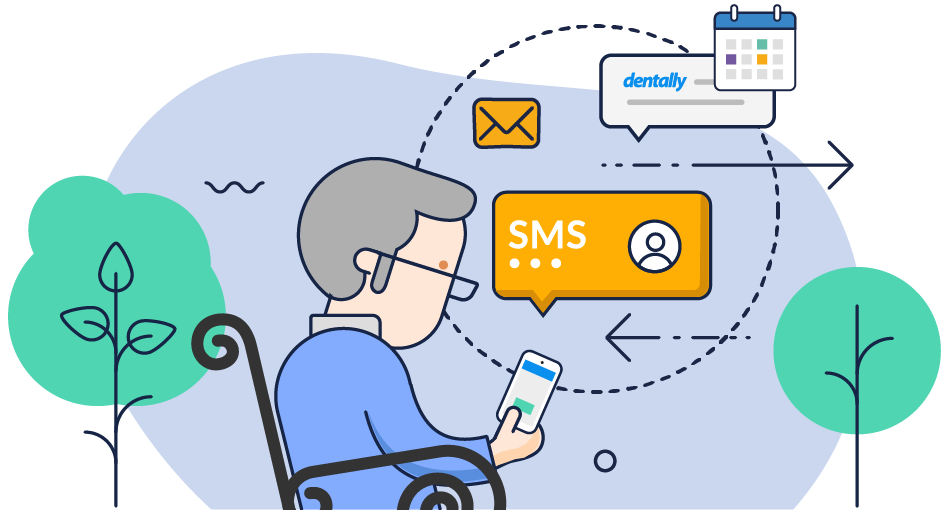 Two way patient SMS and emails
Dentally lets you to send, receive and reply to SMS and email messages. You can easily create templates, customised with your dental practice details, to speed up your communications workflow with Dentally's simple to use day-to-day automations. Plus, it works at every point in your patient's journey - from appointment reminders to timely recalls. Individual patient messages can be quickly created and sent through the system for those times when you need to send a more personalised communication. All of your communication is logged and easy to find in the patient's correspondence history.
Find out more here in our collection of helpful blog articles.
Correspondence templates
Dentally features very simple to create correspondence templates, saving you a lot of time and effort. The templates ensure that all written communication with patients is consistent, includes your branding and contact details, and ensures that each patient receives the correct information. An extensive range of data tags allow your templates to merge in patient specific details, ensuring the templates can read more personally to your patients.
Read more about correspondence templates and data tags.
Automated recalls
Dentally allows you to set up recall messaging workflows. These will automate the recall process and can send a preset sequence of emails, SMS and posted letters at set intervals, helping you provide professional service and an exceptional customer experience, while saving valuable time for your reception team.
The recall workflows can be completely customised based on the recall type, payment plan, practitioner, recall date and the patient's communication preference. The sequences can be easily managed, and you can even set a daily limit of outgoing messages as well as a daily schedule as to when they can be sent, allowing you to plan for incoming calls.
If you're interested in having one less thing to worry about, take a look at our blog.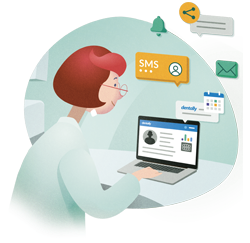 Cloud innovation to transform the way you communicate with patients
We know your patients are your top priority, so we're introducing brand new features to enhance your patient communications. With Dentally, you'll be able to call your patients directly from their record, send SMS links for contactless check-ins and payments, and leverage the power of your data using our patient reports.
Discover how Dentally can help your practice.
Simply select your practice type to find out what Dentally can do for your practice.
...or book a demo with our team.
Decided that Dentally could be right for you? Arrange a demo to see it in action.