Patient management software
Dentally is a fully featured patient management system that fits your practice around the needs of your patients. From keeping on top of admin and managing a dynamic diary through to full control of patient records, we put everything at the fingertips of your reception team so they can deliver an incredible patient experience. Find out how our patient management software can drive the success of your practice.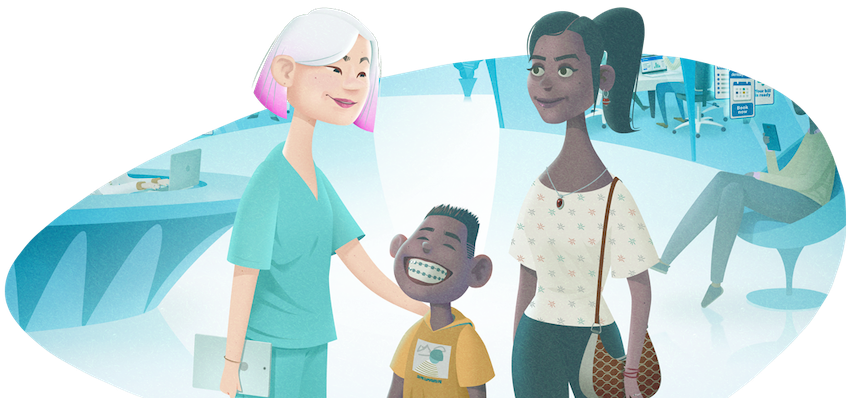 Discover how our patient management features help you
Seamless patient communication, easy to access medical history and records, simple calendars and more. Watch the video to see how we make patient management easier than ever.
A seamless patient journey
Dentally helps you to provide your patients with the modern experience they expect. From remote booking and completion of medical history through to self check in and payment by SMS, everything is smoother with Dentally.
Find out more about the patient journey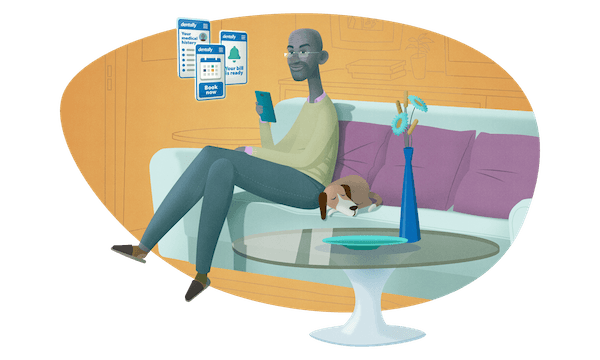 Stay in touch with your patients
Dentist-patient communication is essential for providing quality care and a modern patient experience. Everything in Dentally is designed to help you build and maintain relationships with your patients through effective communication. Features include:
Correspondence templates: Easy to setup and fully customisable to your practice settings.
Two way patient SMS and email: Text messaging and email sequences that can be automated for a seamless patient experience, including appointment reminders, payment links and more.
Outbound telephone calling: Fully integrated into Dentally so you can call directly from the patient record over the internet with a single click. All call details are logged and the user can make relevant notes during or after the call.
Automated recall workflows: Increase patient engagement with preset sequences of text messaging, emails, and letters based on recall type, payment plan, the patient's preferred communication methods and more.
Dentally mail: Automate your paper mail and save your reception team valuable time.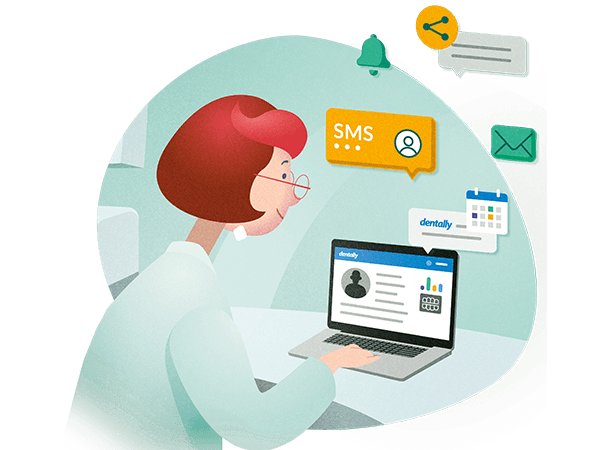 Schedule a demo now to find out more about Dentally
Keep control of your diary
At the heart of our patient management system is Dentally's diary. It's simple, customisable and full of time-saving features. You have full control over your calendar and your team can interact with it seamlessly to keep your appointment book full and optimise chair time utilisation.
Flexible and customisable: Easily control appointment durations, setup recurring appointments, rotas and more.
Keep on top of waiting lists: Track and report on patients to help prioritise waiting lists, track lab work, or fill cancelled appointments with ease to improve practice efficiency.
Seamless clerical-clinical handover: Waiting room features allow reception to mark a patient as arrived , letting the surgery know how long a patient has been waiting.
Easy appointment booking: Schedule appointments right from treatment plans for a fluid patient experience and to support treatment plan adoption.
Optimise practice efficiency: Allows your team to make informed decisions that will help improve practice revenue and chair time utilisation.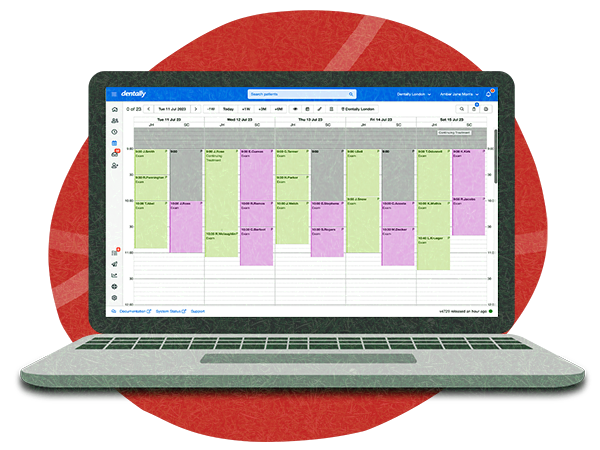 All your patient info in one place
Dentally helps remove the burden of patient admin from your reception team. This makes your team happier and more effective, but most importantly gives them more time to focus on the patient and not the phone. From the patient record your team has everything they need for effective patient management. Contact details, linked family members, medical history alerts and more can all be accessed from one place, making your team faster and more efficient.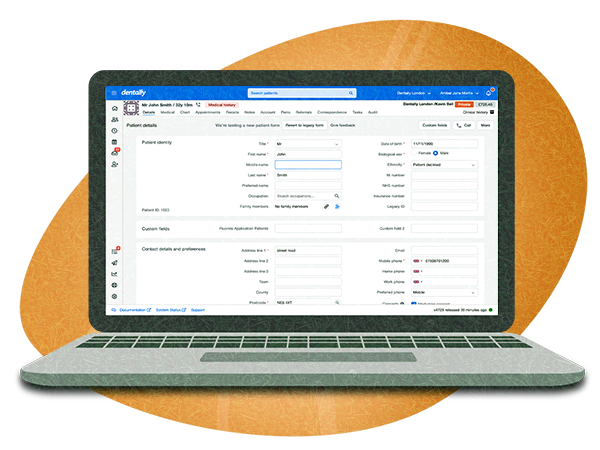 Dentally Portal
Dentally Portal is your solution for building a strong patient experience that empowers your patients, reduces the admin burden and keeps you in control. From online appointment booking to medical history and form completion, Dentally Portal provides an effortless patient journey and saves your reception team valuable time, so they can spend more time on patient care and less on phone calls.
Find out more about Dentally Portal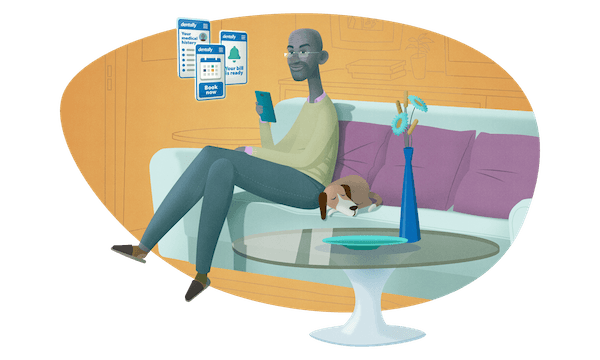 How we've helped dentists improve patient management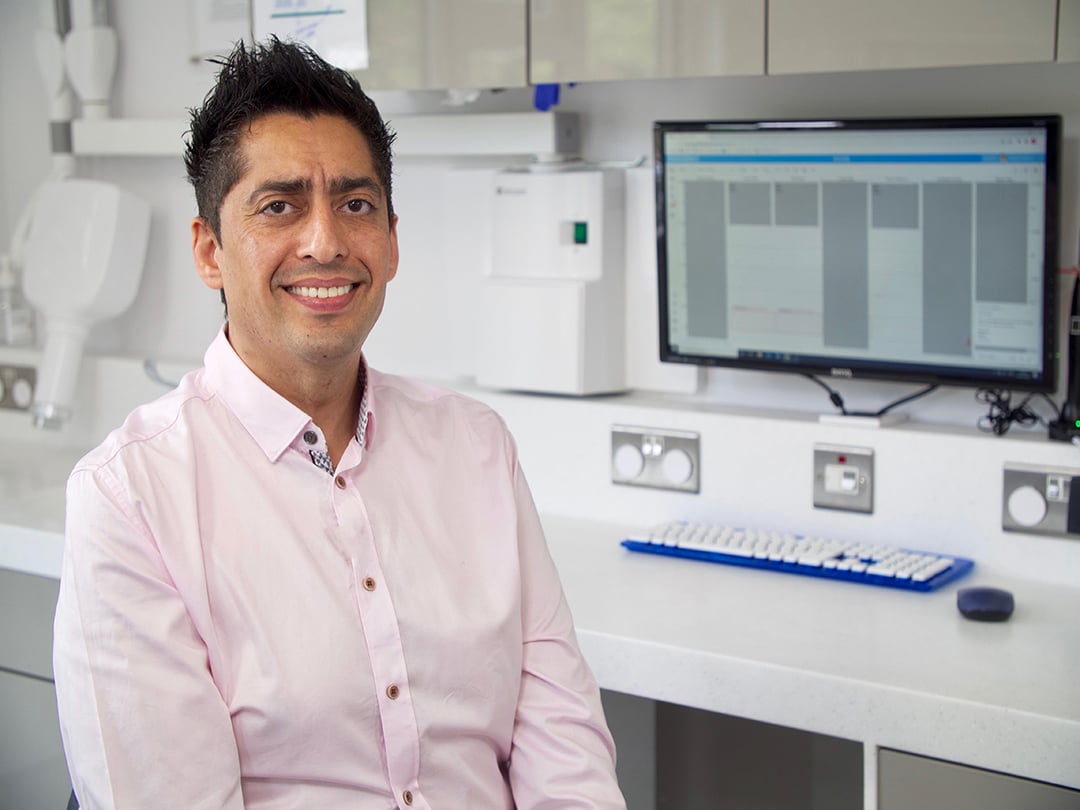 Dentally was the perfect solution, because it was cloud based and has multi-site functionality. The reporting capability of the software was also a big factor in our decision to move to Dentally
Dr Shushil Dattani - Kent Smile Studio
Watch Video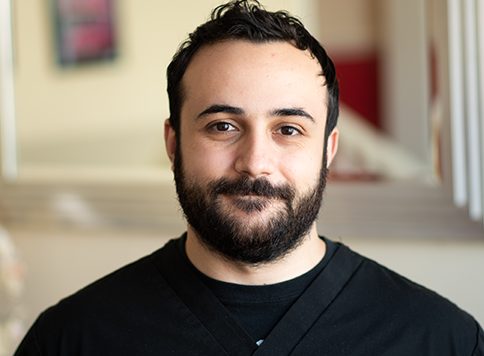 The ability to be able to look at what is going on with the appointment book and do financial reporting from anywhere, means I can spend more time at home rather than at the practice.
Dr Jassim Gilam - London Road Dental Practice
Read More
How Dentally supports other areas of your practice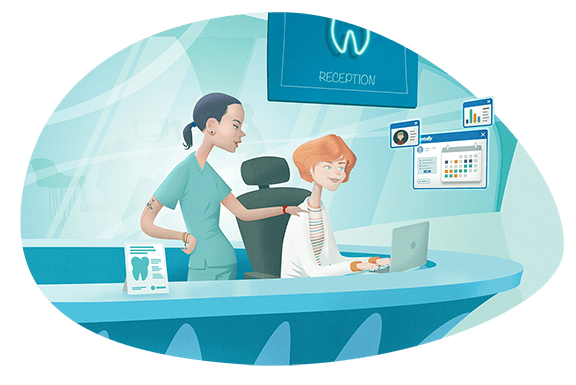 Practice admin
Streamline processes, understand your practice's performance, and easily run reports. Everything you need to run and effective and efficient business.
Learn more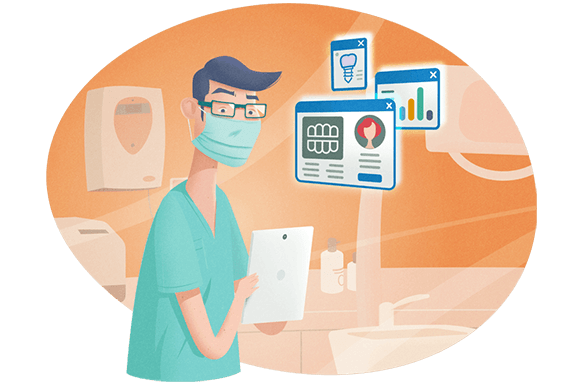 Clinical
Simple and powerful clinical workflows allow you to work quickly all in one system, giving you more time to focus on delivering excellent clinical care.
Learn more