Reception
We know that patient experience is paramount. That's why we ensure your team can access everything they need at their fingertips. You can streamline every stage with Dentally, so your patients can expect a smooth journey from start to finish. They can self check in, sign and complete medical history questionnaires, complete and consent to any necessary paperwork and make rapid payments on-site or remotely.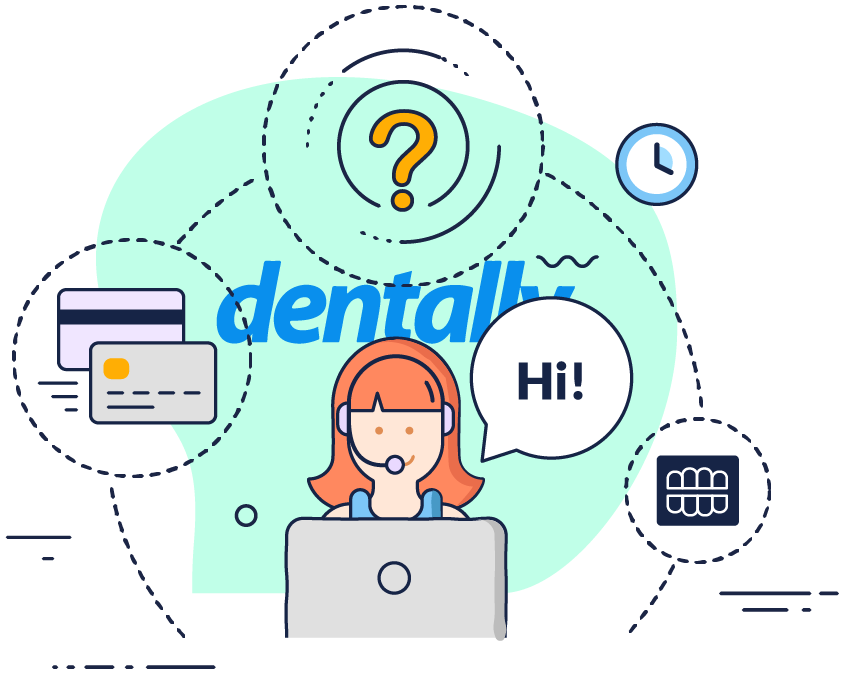 Online medical history
If you wish to run a contactless reception or simply speed up the patient journey, then your patients can complete an online medical history before they arrive on-site. Dentally's online medical history features allow patients to complete their medical history themselves via a unique link, which can be easily sent manually or automatically prior to their appointment. It can be pre-populated with previous responses or left blank if required. Once completed and signed, the new questionnaire is immediately available in that patient's record for a staff member to review.
Take a look around our contactless reception here.
Patient self check in
The self check in feature allows you to send a message via SMS or email containing a link which your patients can use to check in and notify you of their arrival. All the patient needs to do is click this link and check themselves in as they arrive on-site.
This changes their status in Dentally to 'Arrived', informing their practitioner and the reception staff so arrangements can be made to move the patient through your practice, following your protocols.
You don't have to worry about a patient checking in too early either, as they can only click on the link 30 minutes before their designated appointment time, with clear notifications to show when they can check in.
Find out more about how our patient self check in process works.
Waiting Room
The Waiting Room is where patients who are marked as arrived can be seen, and where surgery users pick up their next patient.
The Waiting Room allows all users to check who is currently waiting, with clear definition to show who is waiting for you or others. A clear layout shows the patients currently waiting, their appointment time and details, and their basic contact information to help confirm identity upon arrival in surgery. A colour coding system allows the practitioner to see at a glance how long the patient has been waiting, and to quickly identify if things are running late and if the patient should be in surgery.
Take a tour of our waiting room here.
E-signatures
Not only can the patient sign any medical history using an e-signature, they can also review treatment plan estimates. Once you have a treatment plan in place, you can easily produce an estimate or consent for the proposed treatment, appointments that would be required and costs. This allows your patient to consider the treatment plan and electronically sign to give consent using the iPad app in practice or remotely using the Patient Portal. Once the estimate has been signed, the PDF document in the patient's correspondence is immediately updated and can be printed or emailed to the patient with their signature if required.
Find out more about how you can create estimates here.
Online payment links
To help you and your team run a contactless reception, once the dental practitioner has charged for the work and the patient has left the surgery, an online link to collect payment can be sent by email or SMS. You've got control over when the link is sent; it can be sent immediately and payment made while the patient is still in the practice, at certain times during the day as a bulk exercise, or via an automatic follow up message.
Payment links are simple to set up. Find out more here.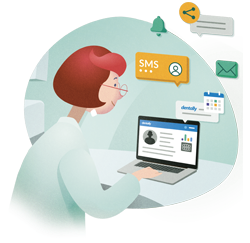 Cloud innovation to transform the way you communicate with patients
We know your patients are your top priority, so we're introducing brand new features to enhance your patient communications. With Dentally, you'll be able to call your patients directly from their record, send SMS links for contactless check-ins and payments, and leverage the power of your data using our patient reports.
Discover how Dentally can help your practice.
Simply select your practice type to find out what Dentally can do for your practice.
...or book a demo with our team.
Decided that Dentally could be right for you? Arrange a demo to see it in action.