Dentally Portal - Online Appointment Booking
With Dentally Portal's Online Appointment Booking, you can allow your patients book 24/7 from your own website. It also works alongside your automatic recalls within the software, and allows patients to view, manage and cancel appointments.
Booking experience
Online Appointment Booking from Dentally Portal gives your patients a great experience, and allows them to make an informed choice regarding your available treatments and book their appointments at a time that suits them, but in line with your practice settings.
New and existing patients can have specific options, while practitioner photos and bios help to form relationships between your patients and your team.
Features:
Allows your patients to book their appointments 24 hours a day, 7 days per week.
Unlimited bookings and unlimited new patient treatments.
Desktop and mobile-friendly - giving your patients a great booking experience wherever they are.
SMS and email booking confirmations.
Patients can change or cancel appointments with a click of a link (rules apply)
Secure payments if you would like to take a deposit for a private treatment.
Easy to add to your website inline or with a smart pop-up.
Customised to your practice, practitioner information, photos, sites and appointment times.
It can work alongside the other exciting features within Dentally Portal, which allows patients to update their contact details, update medical history, view and sign treatment plans, use promotional codes, offers the practice different controls and customisation.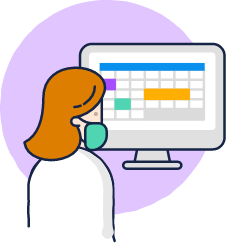 Cloud innovation to transform the way you communicate with patients
We know your patients are your top priority, so we're introducing brand new features to enhance your patient communications. With Dentally, you'll be able to call your patients directly from their record, send SMS links for contactless check-ins and payments, and leverage the power of your data using our patient reports.
Discover how Dentally can help your practice.
Simply select your practice type to find out what Dentally can do for your practice.
...or book a demo with our team.
Decided that Dentally could be right for you? Arrange a demo to see it in action.