Easy Onboarding
At Dentally we work with you to ensure switching your patient management software is a smooth process from beginning to end. Our collaborative staged approach, means we can assist you to alleviate any nervousness about the change that your team may have, working with you to help employees learn the new system so they can embrace it, understand how easy it is to use, as well as get the best out it so they (and you) can enjoy the benefits that it will bring to your patient management. We will guide you through every stage of the onboarding process and beyond.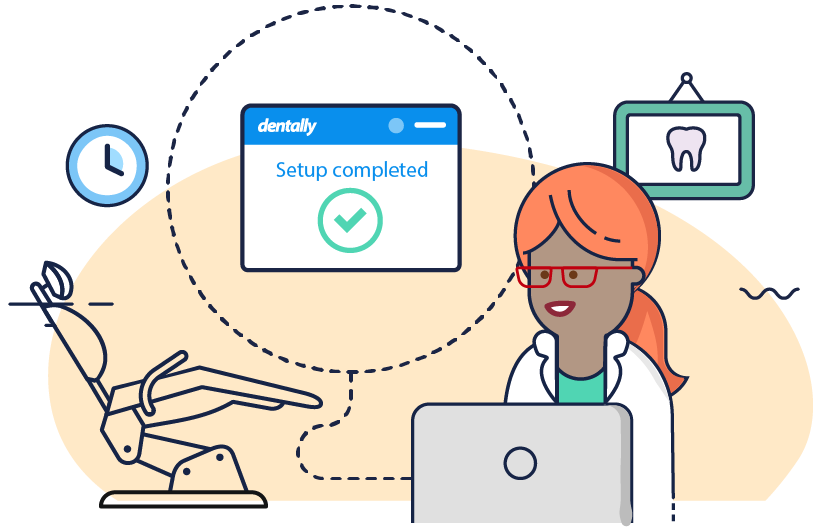 Seamless onboarding
Our onboarding team is here to support you at every step of your journey, so you can be assured you are in good hands. We will guide you through every stage of the onboarding process and beyond, so you can be confident that your practice transition will be smooth with minimal disruption to your business and that your team will feel supported.
You can choose the right onboarding option for our practice, from a self service plan, a fully guided service with remote or onsite training, or a tailored premium package. Once you have decided the best plan for your practice, our team is focused and committed to getting you up and running with confidence and for success.
Meet your Elevate Consultant
Our team will arrange a call with you and your Practice Manager, so that we fully understand your specific needs, discuss timescales and will walk you through the onboarding experience.
Onboarding Kick Off Call
We will agree timescales and we will talk to you about your account setup including the personalisation details including your opening hours and practitioner details - tailoring your interface to your dental business.
Data Migration
We approach the data migration process methodically. Initially we will connect to your server and run a test data conversion from your existing software, holding the data securely in a 'sandbox' environment, for your team to review and verify. Once you are completely satisfied with your data, a final conversion is the day prior to your go live . If you are moving from a paper based system, you will have early access so you can start inputting your paper records.
Setting up Dentally Portal
We will work with you to ensure you are confident in setting up Dentally Portal, and your online appointment booking aligned to your practice settings, so that you can empower your patients to prioritise your oral health.
Training and go live
On the day that you go live with Dentally, training is undertaken to ensure that every member of your team is comfortable and confident with the software. Training combines group and one-on-one training sessions based on the needs of your staff, usually over two consecutive days. The first day is completely focused on training while your practice is closed to patients and then the second day is almost a 'normal' day but with our trainers on hand to guide your team, and help with any final personalisation of the system.
Ongoing support
Support is available when you need it through our dedicated experienced support team or Ellie, our automated support bot. You also have access to our comprehensive Help Centre - ensuring you have the answers you need when you need them.
Customer success
This marks the next phase of your journey on our Elevate customer success programme, as our team works with you to support practice growth, patient retention and attraction, optimise your appointment book, increase treatment acceptance and develop an online presence - whilst ensuring you have a happy, motivated and effective team that are confident in using Dentally.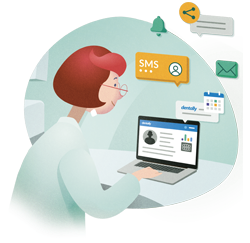 Cloud innovation to transform the way you communicate with patients
We know your patients are your top priority, so we're introducing brand new features to enhance your patient communications. With Dentally, you'll be able to call your patients directly from their record, send SMS links for contactless check-ins and payments, and leverage the power of your data using our patient reports.
Discover how Dentally can help your practice.
Simply select your practice type to find out what Dentally can do for your practice.
...or book a demo with our team.
Decided that Dentally could be right for you? Arrange a demo to see it in action.