Dentally's clinical features
We've designed Dentally's clinical workflow in direct collaboration with dentists. Practitioners can easily understand patient history, carry out dental charting, take clinical notes, and build treatment plans all in one place. And everything is connected to the clerical system allowing for a seamless transition between dentist and reception.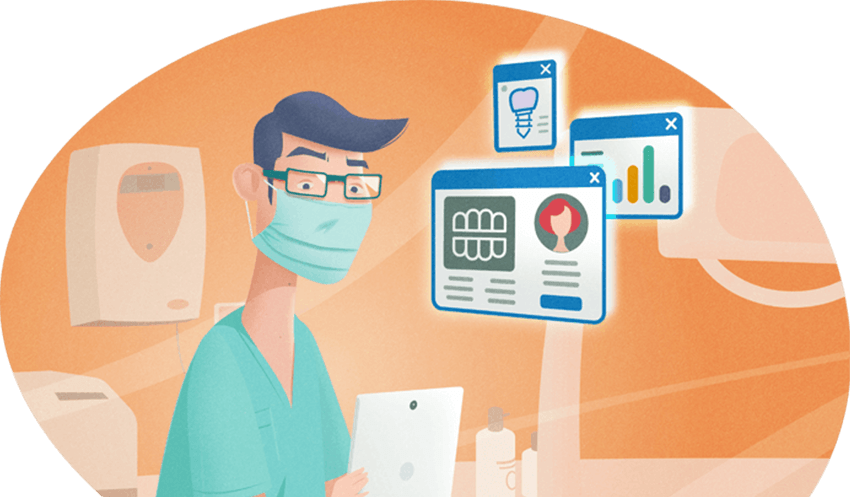 Discover the power of Dentally's clinical features
Dentally helps you deliver better clinical care thanks to rich features that save time and money for your dental practice. Out dental chart software is simple to use, giving you access to full patient information at a click so you can focus on the patient and their treatment.
Dental charting
With one click you can see your clinical sidebar and get a full overview of the patient's treatment history, saving you time compared to other charting software. Clinical notes can be set at the practice or practitioner level, and our hover chart feature learns the most frequently used treatments to aid in further customisation of charting.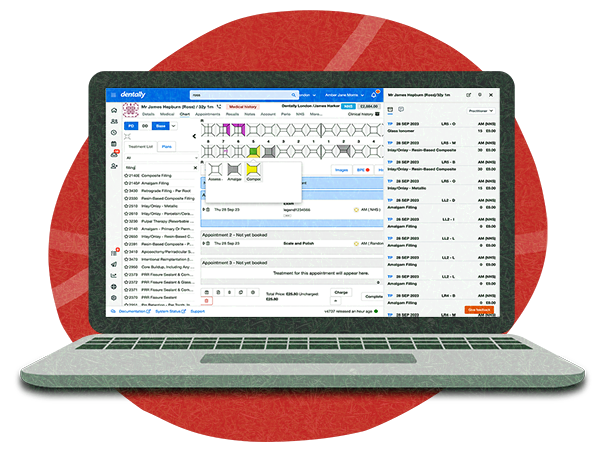 Basic periodontal examination (BPE)
Record BPEs from the chart screen with ease. An indicator will show if your patient is due a new examination and you can set a recall interval for the next exam right there. Previous BPE results are clearly presented, and you can record bleeding and furcation to build a new BPE.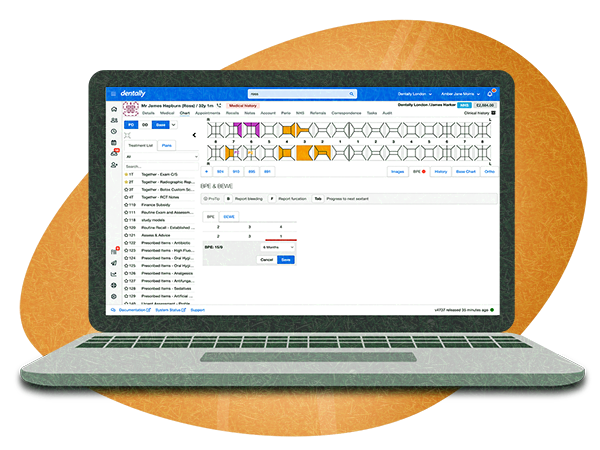 Basic erosive wear examination (BEWE)
Undertake a BEWE at the same time as the BPE. Take readings for the entire mouth with a cumulative score displayed, and all results recorded directly into Dentally.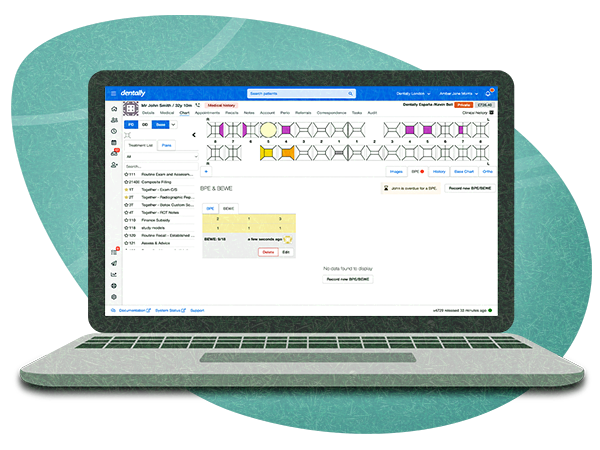 Schedule a demo now to find out more about Dentally
Treatment plans
Treatment planning in Dentally is seamless and fast. With templates you can plan even long, complex courses of treatment with a single click. Not only do you save time but you also ensure a consistent approach across all practitioners. Easily create multiple plans, giving your patient different choices for their treatment and guide them effortlessly through to making an informed choice. The patient can sign off on the plan there and then using an iPad or via Dentally Portal, our patient platform. All follow-up appointments and invoices are immediately shared with your reception team to create a fluid patient journey.
Find out more about Dentally Portal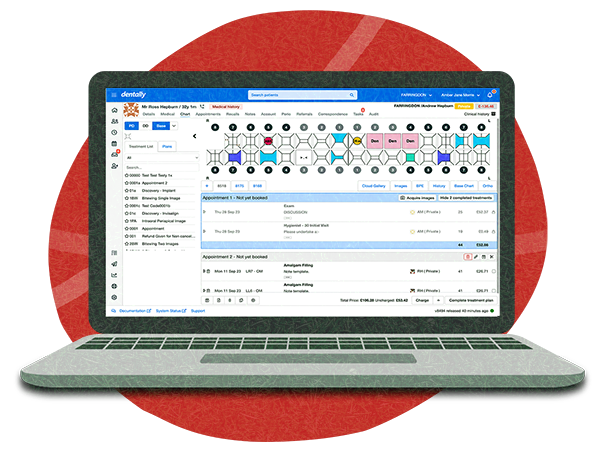 Orthodontics
Our orthodontic module allows extensive assessment of data, including overbite and overjet information. Data is easy to review and simple clinical workflows allow you to track patient progress through their treatment stages.
Dentally Vision
Adding Dentally Vision into the main Dentally platform lets you acquire, manage, and access images and x-rays from within Dentally. With an extensive list of imaging bridges you can view clinical images from x-ray scanners, cameras, and other image acquisition devices with a single click.
Find out more about Dentally Vision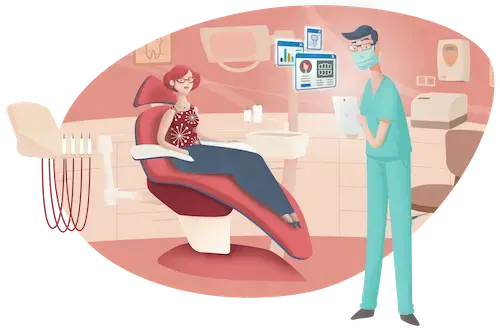 Schedule a demo now to find out more about Dentally
How Dentally supports other areas of your practice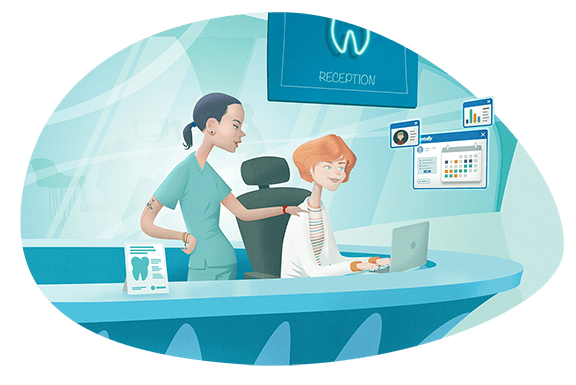 Practice admin
Streamline processes, understand your practice's performance, and easily run reports. Everything you need to run and effective and efficient business.
Learn more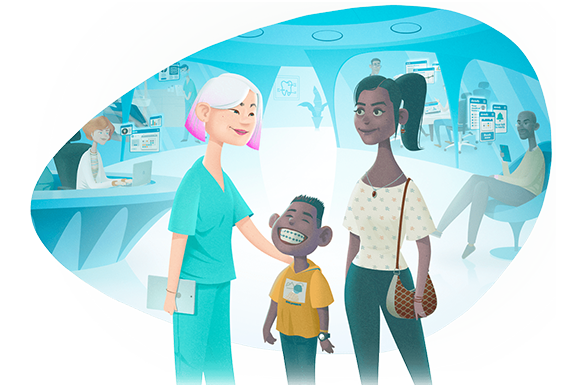 Patient Management
Easy to use and with powerful communication tools and automation, Dentally helps your team be happier and more efficient while providing an incredible patient experience.
Learn more
Discover how Dentally can help your practice
Arrange a demo with our team today and see if Dentally is a match for you and your practice.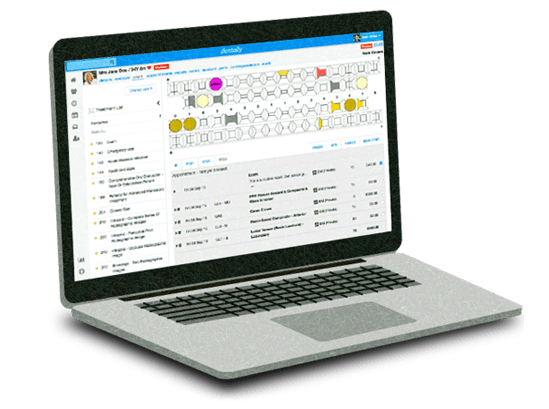 Book a demo
Decided that Dentally could be right for you? Arrange a demo to see it in action.