Platform Security
If you have already read our user security pages then you'll know that security is taken seriously at Dentally - so you can be assured your data is secure in the cloud. We adhere to all industry best practice standards from design and development to database security encryption, in line with the Information Commissioner's Office requirements for data protection.
Read more about user security here or for a deeper insight into our security policy.
Data resilience
Loss of data can have a huge impact on any dental practice. With Dentally, back-ups are simple and quick, and they're performed by us in the background throughout the day without any interruption to the workflow of the practice. Replicated data is stored in multiple locations, preventing physical data loss and ensuring compliance with all GDPR data protection protocols.
Find out more about removing the issue of physical data loss from your practice
Fully encrypted database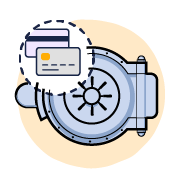 Operational security is paramount. We use strong robust encryption throughout our software to minimise the chances of someone intercepting username/password combinations or other sensitive information. And whether data is in flight or in rest, it's fully encrypted. Dentally is hosted by Amazon Web Services in the EU, who provide us with a highly scalable cloud computing platform with end-to-end security and privacy features as standard, fully certified to ISO 9001, PCI DSS Level 1, SOC1, SOC2, SOC3 and other independent assessments.
For a more in-depth look at our security policy, click here.
People processes
Your data is secure within Dentally, using the latest security measures and adhering to the latest standards. The team at Dentally has no physical access to your database. We can't see your passwords as they are all one way encrypted, and all third party credentials are hidden. Access by our team to your data is restricted and only used with your permission by an authorised core set of Dentally staff, in isolated circumstances such as your initial move to Dentally or to help resolve a support query that you may have raised.
Communications security
All dental application communications are encrypted to the same levels used by financial institutions such as banks. All communications from the software are encrypted over 256 bit SSL which cannot be viewed or intercepted by a third party.
Read our security policy here.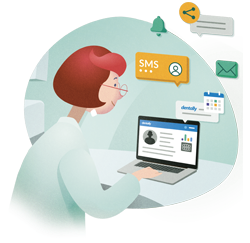 Cloud innovation to transform the way you communicate with patients
We know your patients are your top priority, so we're introducing brand new features to enhance your patient communications. With Dentally, you'll be able to call your patients directly from their record, send SMS links for contactless check-ins and payments, and leverage the power of your data using our patient reports.
Discover how Dentally can help your practice.
Simply select your practice type to find out what Dentally can do for your practice.
...or book a demo with our team.
Decided that Dentally could be right for you? Arrange a demo to see it in action.