Your Cloud Based Dental Software
Cloud technology has changed the way we live and work. It has not only become an integral part of our everyday home life but also our work environment, and it continues to be transformative in the world of dentistry. Dentally brings all the benefits of cloud computing to your dental practice, leveraging its power to save time and money. It makes for all-round easier, more agile and effective practice management - and all you need is an internet connection.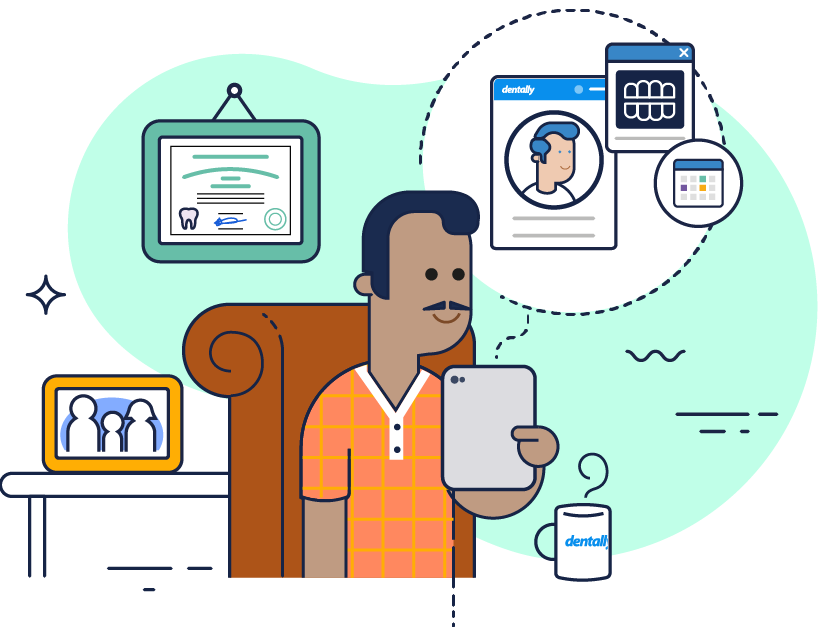 Work from anywhere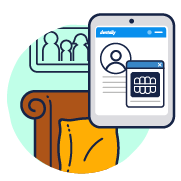 Because Dentally is completely cloud-based, your team can work remotely whenever they need to, taking care of admin or dealing with telephone triage appointments. This level of flexibility means no disruptions when it comes to providing great patient care, and there's no compromise where security is concerned either. All sensitive data is stored securely on the cloud rather than locally, and you have robust security for your users to login and access the data.
Find out more about how Dentally is designed to enable seamless, secure remote working.
Save money on IT
Cloud-based software is accessible over the internet, so all you need is the internet or 4G and you can access it and inter-connect with other tools and applications. Just download a browser, such as Google Chrome, and you will be able to use Dentally. There is no need for expensive, complicated and high specification hardware or servers.
Our cost-effective solution, Dentally, can help you save money on IT.
Internet connection
In the rare case that you lose your internet connection, you can still use Dentally. A data hotspot on your mobile phone using a 3G/4G data connection or a back-up router which can run on a SIM card will be more than sufficient to run the software over a mobile connection. Dentally does not require a large amount of data to allow you to run your practice.
No server needed
Let's talk about using cloud for dentists, with Dentally you don't need a server in your practice at all, because all your data is stored safely on the cloud. Rather than having to run a power-hungry, expensive server on-site, it's our own servers doing all the work to keep your dental practice running smoothly. Plus, no on-site server means greater data security, protecting your practice from data loss as a result of hardware failure or theft.
Find out more about how having no on-site server can benefit your dental practice.
Connect unlimited computers
Using Dentally means there's no restriction on the number of computers from which you can use our cloud-based software. Whether you or your team members are working remotely, or you are running a larger or multi-site practice with multiple computers, Dentally is designed to ensure you can get connected with convenience and without limits.
Compatible with multiple operating systems
Dentally is versatile. Our cloud-based software gives you complete freedom when it comes to which operating system you use in your dental practice. It works with Windows and it works with Mac. There's no need to choose between the two either; Dentally can work with multiple devices using multiple operating systems. This includes laptops and iPads - and when you update your operating system, there's zero interference with the cloud.
Visit our Help Centre for details about the system requirements for using Dentally.
Automatic data backup
Our cloud-based software is backed up multiple times during the day, and it's all done using advanced, automatic procedures. This means you can do away with worrying about rotating data tapes and external hard drives, and we test the backups for you as well, taking the hassle of everyday data management out of your hands.
Daily updates
Dentally makes small, ultra-frequent system updates - usually on a daily basis. These micro updates enable a steady progression when it comes to improvements to our software's features and functionality. Dentally is all about ease of use, and you'll never be confronted with major system changes. Refreshing your browser is all it takes to benefit from our daily updates - no restarts, no downtime, no hassle.
Find out how our daily updates help you keep working, without interruption.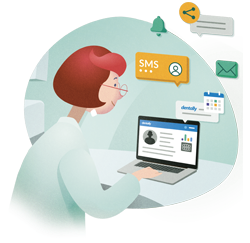 Cloud innovation to transform the way you communicate with patients
We know your patients are your top priority, so we're introducing brand new features to enhance your patient communications. With Dentally, you'll be able to call your patients directly from their record, send SMS links for contactless check-ins and payments, and leverage the power of your data using our patient reports.
Discover how Dentally can help your practice.
Simply select your practice type to find out what Dentally can do for your practice.
...or book a demo with our team.
Decided that Dentally could be right for you? Arrange a demo to see it in action.